I tried to be a daring baker, I wanted to be a daring baker but I'm just not organised enough. This is my cheesecake from last months challenge. I wasn't able to post it in time because I have been away for the last week and half for work.  And I can't tell you how it tasted.  I left it for my mum to pick up and enjoy but, well she didn't make it to my place for a week, where she was greeted by stinky cheesecake that couldn't be eaten. As for more daring bakers challenges seeing as I'm moving in two weeks (crazy!!) I think I might have to take a break from daring bakers.  But please check out all the other
daring bakers cheesecakes
 Keeping with the blog event theme its a special Sunday Baking feature. Here are some of the best and most popular blog events out there.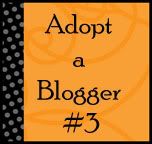 Of course another great event is the
Adopt-a-blogger
started at
Dine and Dish
. I mentioned last week that my adopted blogger is
HoneyB
.  If you haven't already check out the blog. I look forward to being part of this event in the next few (very busy!) months. 
I'm sure there are plenty more events out there, if you have any favourites let me know by leaving a comment.